Top 3 Best Foot Massagers Reviews in India 2022
Investing in a foot massager can relieve you during a long and stressful day. Moreover, you can use it anytime at home.
This is the reason, these devices have become very popular and must be owned in any home.
The right foot massager not only provides an amazing massage experience but also provides some health benefits-including physical and mental health care.
After careful analysis and research, we have selected the top 3 best foot massagers in India for you.
Top 3 Best Foot Massagers Reviews
| | | |
| --- | --- | --- |
| | | |
| JSB Ultra Leg Massager for Foot and Calf Pain | | |
| Lifelong Foot, Calf and Leg Massager | | |
| AGARO relaxing foot and calf massager | | |
Healthcare plays a vital role in our life. People never compromise on their health rather they spare some time from their daily busy routine and take care of it.
JSB Healthcare is one of the leading Indian brands dealing in almost all your home healthcare products. JSB has been involved in the health and fitness industry for more than 35 years.
JSB group offers a wide variety of quality products in various categories ranging from leg and foot massagers, body massage chairs, back, and neck massagers, fitness exercise cycles, pain relief massagers, slimming body massagers, and a lot more.
There are various lifestyle disorders mainly knee, calf, foot, and heel pain that occurs as and when you grow up. To overcome this problem, you start going out for a walk or exercising. But due to a shortage of time, you sometimes miss those sessions. So, to overcome this barrier to improve your leg pain, JSB Ultra leg massager is there for your foot and calf pain. 
You can have a stress-relieving massaging experience from the comfort of your home at any time with as many sessions as you want. This product helps in smoothing the flow of blood circulation in legs and reducing swelling and numbness in legs.
This foot massager rejuvenates your body and makes you feel fresh. It is perfect for people of all age groups especially the product is a true love for old aged people.
Key Features:
JSB Ultra leg foot massager promotes blood circulation due to its vibration feature.

Pain relief massage of the leg with 45-degree reclining capacity.

1-year JSB National warranty with service available at your doorstep.

Rubber kneading pads for effective results.

It has 3 modes of vibration with 3 modes of kneading and a relaxing reflexology vibration plate on the sole of the foot.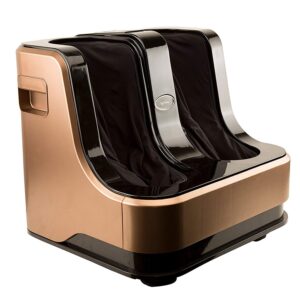 The name of the brand itself indicates the longevity and durability of any product bought from Lifelong. Lifelong was started in 1996 with the production of various commercial products and soon they achieved the leading positions in different areas for manufacturing products that its customer needs.
The Lifelong leg and foot massager is one of the best massaging machines with almost all leg and foot disorders. It provides electronic simulations on the pressure points of the sole and helps you in reducing tiredness from your body.
This massager uses a 3-D biometric method that provides a fusion of traditional massage techniques with modern magnetic therapy for your good foot health. Auto mode, Custom mode, Manual mode are three modes it works on.
The product comes with adjustable seating positions with suitable reclining capacity. It is durable as it consists of a copper motor with pure copper wire for energy efficiency and durability.
The product targets the sensitive points of the soles and improves blood circulation. Ergonomically designed with four flexible kneading disks to provide a great relaxing massage experience for your foot and ankle. You can use this massage machine from the comfort of your home or workplace for your convenience. It focuses on the acupuncture points and works on the acupressure principle.
Key Features: 
LED display with touch button for easy accessibility.

Four kneading disks for professional massage feels.

Removable and washable fabric cover with zip for perfect hygiene.

Four customizable massage modes. 

1-year brand warranty.

Helps in relieving your muscle tensions and relaxing your body and foot.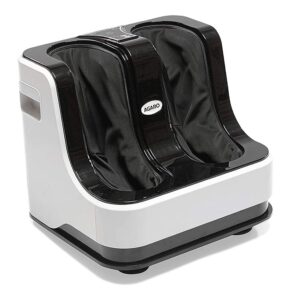 AGARO is a leading brand in manufacturing products that leads you to a healthy lifestyle. They build products ranging from speakers to pain-relieving massagers.
AGARO makes sure that every product they make is of good quality and suits your needs. Personal care, music, and sound, kitchen appliances, garment care, lighting solutions, massagers, healthcare devices, travel luggage, accessories are some of the top categories in which they deal.
AGARO foot and calf massager provides a relaxing and relieving massage to your feet, ankles and calves. It gives a powerful kneading and rolling massage that penetrates deeply to reduce the tiredness of your legs.
The lower part of your body is an important part that holds up the weight of the whole body. So it is very important to keep them fit and healthy.
Soreness and fatigue in the legs are the major problems that people suffer from.
AGARO foot massager works best to remove your long hour tiredness and other foot issues. It stimulates the reflexology pressure points at the sole of your feet and improves blood circulation. Its bi-directional rollers increase metabolism and muscle relaxation.
The massager has two customized options of auto mode and manual mode. You can enjoy the massager in any of the modes as per your requirements.
Key Features:
1. Powerful kneading massage pads for your feet and calves.
2. It has bi-directional rollers that stimulate the vitality of the skin and improves blood   circulation.
3. Customised massaging options with touchpad and LED display.
4. Removable and washable covers that let you maintain hygiene.
5. Reclination up to 45 degrees when sitting to get a relaxing massage.
6. 3 massage functions: kneading, rolling, and arch scraping.
7. 1-year manufacturer's warranty. 
After a tiring day, everyone deserves a good relaxing massage. However, getting a spa every day is almost impossible and expensive. However, buying a foot massager is a good choice for daily spa treatments. It provides the same hands-on experience as you would in any hot spring bath.
Most modern leg massagers in India are equipped with the latest technology and well-researched massage techniques. In addition to relaxing the feet, they also focus on certain pressure points to provide complete physical relaxation.
You can't select them casually when purchasing leg and foot massagers. You have to consider those variables, such as height, form, and other variables.
According to our choice, JSB HF05 leg and foot massager is our first choice because it is one of the most popular and widely used foot massagers in India.
If you still have any questions or questions, please feel free to write in the comments section below. We will reply to them as soon as possible. You can also share with you the experience and choice of foot massager at any time.